The Cerame Family has been serving St. Louis car buyers since 1966.
Our dealership's founder, Paul Cerame, began his career in 1966 selling and servicing British sports cars. He soon had the opportunity to purchase the dealership he managed and began his career as a dealer with brands like AMC, Jeep, DeLorean, Lincoln and Mercury.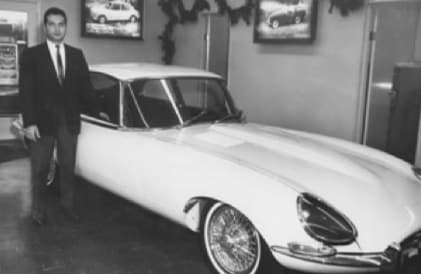 Founder Paul Cerame with what would be today a priceless Jaguar, circa 1966.
After becoming one of the top-performing Lincoln and Mercury dealers, Paul purchased a Ford franchise in 1997, and passed the reigns on to his three sons: Bob, Tom, and the late Dick Cerame.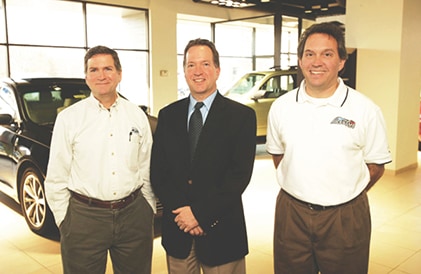 Paul's sons and current owners, Tom and Bob Cerame, along with their late brother Dick.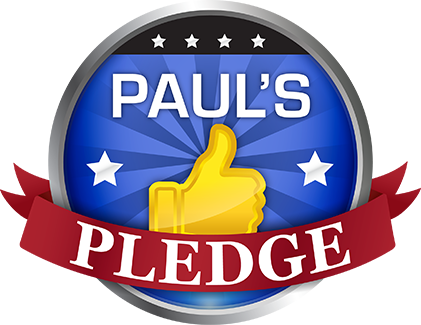 Today, Bob and Tom, along with a dedicated staff of employees, proudly continue the Cerame tradition and back it up with "Paul's Pledge":
A fair and honest sales experience
No games, tricks or gimmicks
The highest trade allowance
The lowest possible price
Outstanding customer service before, during, and long after the sale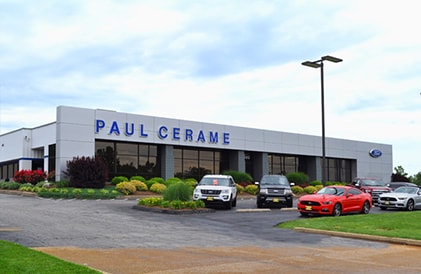 Our beautiful Ford store located at 11400 New Halls Ferry Road in Florissant, MO.
We stand behind every deal like no other dealer.
Over the years, we have always strived for 100% complete customer satisfaction, just as Paul Cerame would expect.  As a result, we have won Ford's prestigious President's Award 13 times, more than any other dealer in St. Louis.  This, along with decades of loyal, satisfied customers, demonstrates the concrete results of our commitment to giving every customer a great deal, with a great experience, backed by great service all along the way.  We always have, and we always will.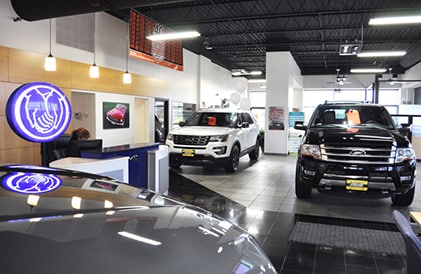 Our beautiful Ford showroom even features Enterprise Rental Cars
and an Allstate Insurance office on-site.